Hidden Heading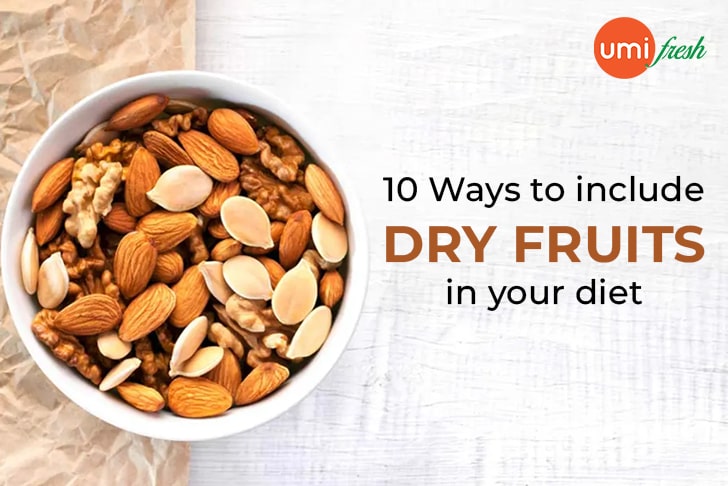 Some people love to include dry fruits in their diet but have no clue how to do it. Maybe they are not used to the texture or have never tried to combine them with their usual meals. But there are plenty of ways to add these healthy, delicious fruits into your routine without much hassle.
Wanting to include dried fruits into your diet? Here's 10 Ways to do it!
Add them to your morning oatmeal or yogurt as a healthy topping.
Use them as a healthy sweetener in baking recipes.
Enjoy them as a healthy snack on their own.
Make healthy fruit smoothies by blending them with other ingredients like yogurt or milk.
Blend them into fresh fruit salads for a delicious and nutritious meal.
You can eat them as part of a healthy breakfast, as a snack on the go, or as part of a dessert.
Combine some dates mixed with hot water which can be a healthy additional for maple syrup.
A cheese platter lover? you should know that it is unfinished without dry fruits
Making a mixture of sweet vegetables and fresh dry fruits such as sliced prunes, berries and dates can end up in an awesome sweet dish.
There are many different types of dry fruits available at Umi Fresh. Some of the most common include raisins, cranberries, dates, figs, and apricots.
Try to include at least 2-3 servings of dry fruits per day in your diet for a healthier and flourishing lifestyle.  You can either eat them as it is, or you can use them in recipes. Some of the best recipes to try include dried fruit crumble bars, date bars, and fig bars.
Dried fruits are low in sugar and rich in fiber, both of which can help keep your blood sugar levels and hunger satisfied. They also contain antioxidants that you don't get in most fresh fruits and vegetables, so they're a healthy snack to include in your diet. 
Buy dry fruits online
today
 from Umi Fresh and experience the valuable nutrients and antioxidants that can protect your body from disease.